HAVE YOU SEEN US?
WE ARE CURRENTLY IN YOUR NEIGHBORHOOD ASSISTING YOUR NEIGHBORS
RESIDENTIAL ROOFING SERVICES
Enterprise Contracting, Inc are Ellisville based roofing contractors specializing in the installation and maintenance of various roofing systems. We are certified and educated in all the latest installation techniques and product offerings.

IF YOU HAVE A LEAK, CALL NOW (314) 455-5000
RESIDENTIAL ROOFING SERVICES
WE ARE GAF CERTIFIED ROOFING CONTRACTORS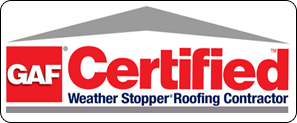 THIS DISTINCTION IS ONLY GIVEN
TO THE TOP 6% OF ROOFING
CONTRACTORS NATIONWIDE.
REVIEW WEATHER RATED SHINGLES
AND LIFETIME WARRANTY OPTIONS
COMMERCIAL ROOFING SYSTEMS
REDUCE YOUR ENERGY COSTS
WITH AN ENERGY EFFICIENT ROOF SYSTEM
METAL ROOFING
CHOOSE FROM DOZENS OF BEAUTIFUL AND DURABLE STYLES