Our Mission Statement
Enterprise Contracting, Inc. has been providing the highest quality roofing, siding, windows and gutter systems for residential and commercial customers for many years. Our customers can rely on our availability for many years to come. Our elite roofing craftsmanship is built on years of industry experience. We work on all types of roofing systems and with a variety of roofing manufacturers in order to provide homeowners with the best roofing material and warranty that fits their needs.
Locally Owned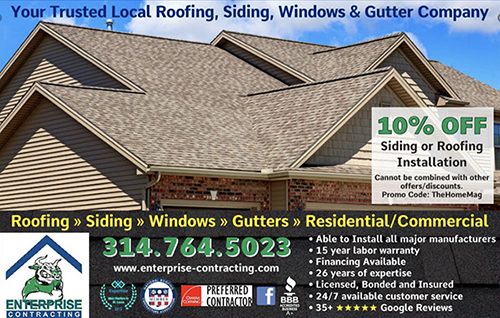 We are locally owned and operated and serve St. Louis, MO | Columbia- Jefferson City, MO | Kansas City, MO and surrounding communities within a 75-mile radius. Our skilled craftsmen have many years of experience serving the roofing, siding, windows, and guttering needs of Enterprise Contracting, Inc. customers. Our office staff consists of a 24/7 emergency staff who will field calls of emergencies, appointment scheduling, general questions/comments/ or concerns. We are one of very few roofers who WILL answer your calls and return them. We have a production assistant, office manager, and more to best to serve you at the highest standard.
---
We have the ability to install the following brands:
Certainteed Products
Owens Corning Products
Mule-Hide Products
Malarkey Products
Pella Products
Anderson Products
Builder Grade Products
Norandex Products
Shake Products
Wood Fiber Products
Gerard Products
Standing Seam Products
Firestone Products
And more.
Meet The Team